Produced by: 36Kr Digital Time Krypton, 36Kr Enterprise Service Comments
Author: 36Kr figures when kryptonite Arjun.
Technical Support: 36Kr Enterprise Service Review Zhang Xuehui
**
What exactly is "digitalization"? A thousand people may have a thousand answers in their hearts.
What is the characteristic answer of 36Kr? We imagined a variety of schemes to describe digitalization, and finally chose this scheme now-tracking the public publicity reports of 662 listed companies and counting the "hot words of digitalization practice" involved.
These "hot words of digital practice" also reflect these well-known companies' understanding and practical choices about digitalization to a certain extent: behind every practice is the real investment of manpower, material resources and financial resources, and every report often means that these digital practices are positively and negatively related to the company's business or brand. It is for this reason that this series has the value and significance of continuous observation.
This article is the statistics of related data from January to February, 2023.
According to the statistical data of 36Kr, the most noteworthy trend in January and February is that ChatGPT and artificial intelligence, which continue to explode, have also affected the digital practice propaganda of these well-known enterprises, and many companies have also begun to publicize the application or influence of artificial intelligence in company digitalization. It can be seen that the word frequency of last year's hot word champion "Metauniverse" dropped rapidly in January, but "artificial intelligence" showed a growing trend.
But this does not mean 100% that large enterprises are "chasing the wind". On the one hand, the practice of digital intelligence often takes a certain period. In recent years, AI has gradually matured in the industry. Some enterprises did adopt artificial intelligence technology in their previous digital intelligence practice, which is why they have propaganda materials. On the one hand, it also fully shows that large enterprises and the capital market behind them attach importance to artificial intelligence. In addition to the 662 companies under our monitoring, many companies have also announced artificial intelligence-related businesses or cooperation, especially ChatGPT-related businesses and cooperation.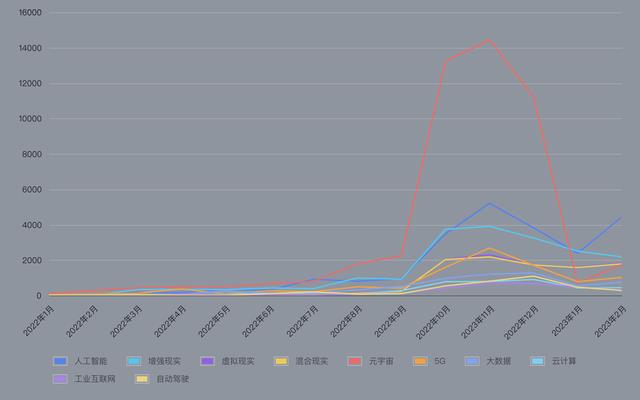 Monthly frequency change of hot words
According to statistics, from January to February, 2023, the Top 10 of "digital practice hot words" was:
artificial intelligence
AR(Augmented Reality)
VR(Virtual Reality)
mix reality
Metaverse
5G
big data
cloud computing
industrial internet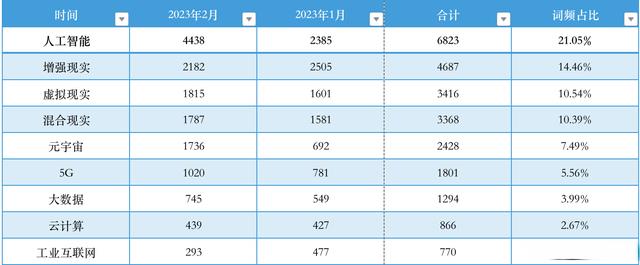 January-February, 2023 "Digital Practice Hot Words" TOP 10
According to the previous related research (160,000 public articles in 10 years, we found the digital secrets of 662 most valuable companies in China), Metauniverse, Artificial Intelligence and Augmented Reality became the most popular digital practice technologies for large enterprises in 2022), we can find that the Top 10 of "digital practice hot words" is relatively stable.
Since 2017, some mainstream technical terms, such as augmented reality, 5G, artificial intelligence, virtual reality, etc., have basically maintained a high ranking and popularity, and have remained in the top 20. As shown in the figure below, before, we counted the annual word frequency ranking of some popular words, which basically showed this stability.
From the eighth place, the number of word frequencies plummeted. This shows that large companies are willing to try some new technologies, but their investment is not sustainable and stable. This also shows on a certain side that it is often not easy for startups in the field of enterprise services to expand large companies.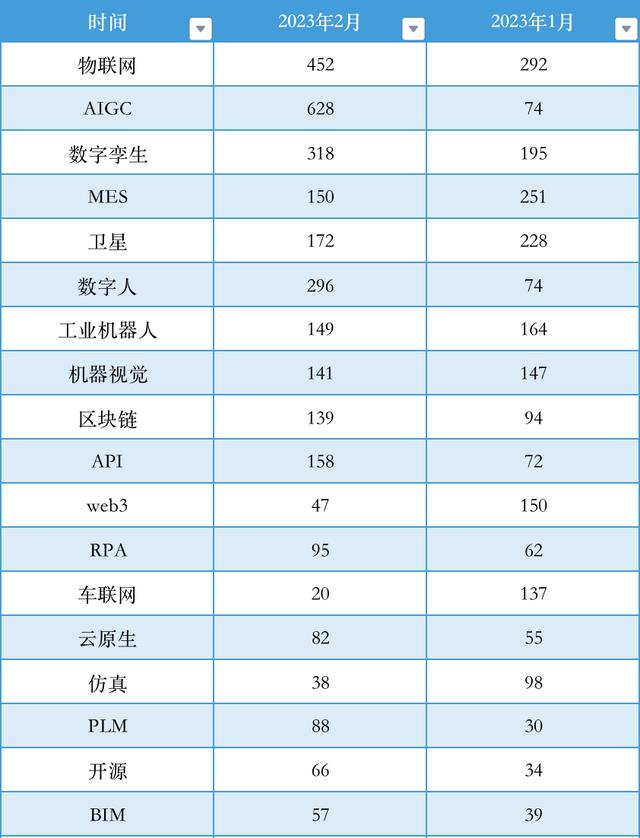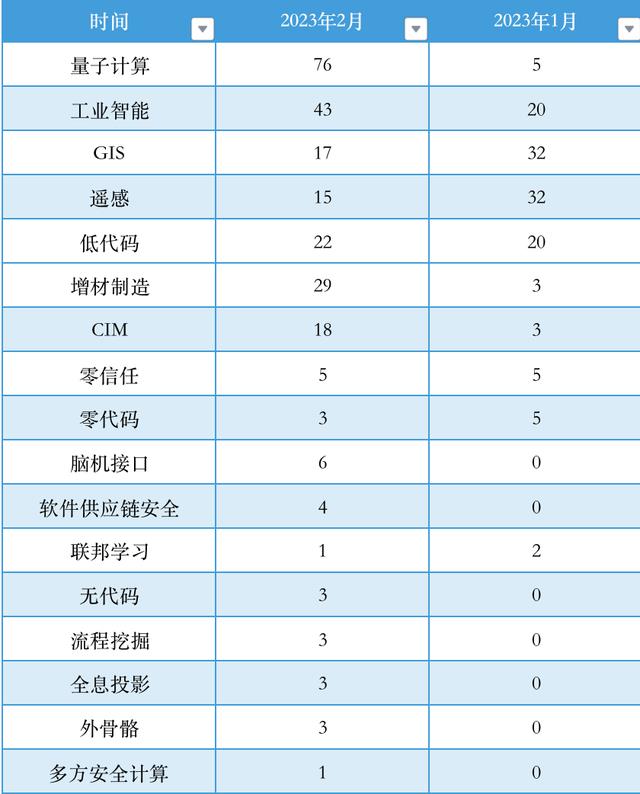 (End of this article)
If you are interested in more concrete data of practical hot words, you are welcome to contact us (cdomkt@36kr.com) for relevant data or charts.