ChatGPT's wind blew, and the US group Wang Xing was tempted.
Yesterday afternoon, Wang Xing, the founder of Meituan, announced in a high-profile circle of friends that the AI ? ? model made him "both excited and worried". In the future, he will personally participate in the A round investment of Wang Huiwen's startup company "light years away" and serve as a director.
The original text of this circle of friends is: "The AI ? ? big model makes me both excited about the huge productivity that will be created soon and worried about its future impact on the whole world. Lao Wang and I have been on the road to entrepreneurship for nearly 20 years.Since he is determined to embrace this big wave, I must support it. "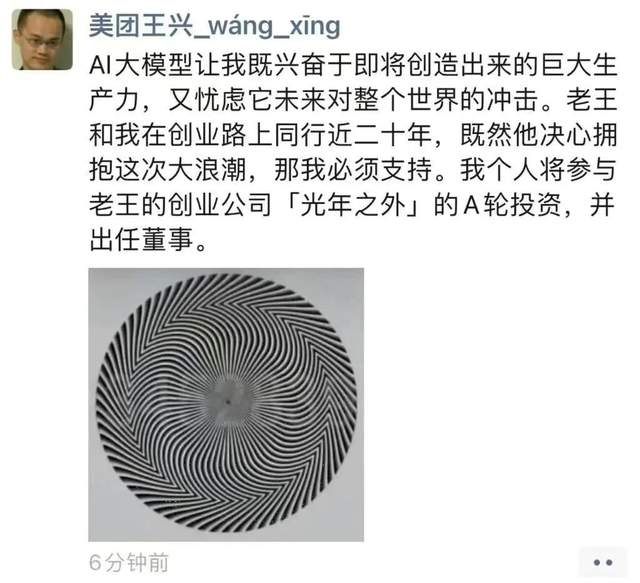 Just last month, Wang Huiwen, another core founder of Meituan, published articles on social platforms continuously, announcing that he would start a business in AI, with the goal of creating "China version of OpenAI". Recently, ChatGPT, which is very popular in the technology circle, is the product launched by OpenAI.
His concrete measure is to contribute 50 million dollars., valued at $200 million, set up Beijing Lightyear Technology Co., Ltd.. However, its own funds only account for 25% of the shares. In his AI Heroes List, he wrote that another 75% of the shares are used to invite top R&D talents.
If these shares have not been issued by the time the company goes public, a non-profit fund will be set up to "invest in projects with unclear development path, slim realization hope and unclear commercial value".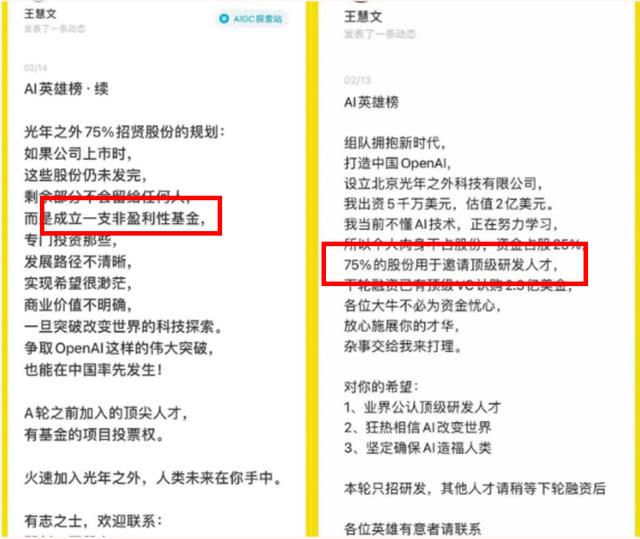 As soon as this move came out, the four sides moved.
Some researchers questioned its capital and technology, and some people yearned for it, but never expected that the first big fish caught in this project was actually an old partner Wang Xing.
At this point, we look back,Recently, the investment and entrepreneurship of AI, Big Model, ChatGPT and other related tracks have entered the stage of racing against time.
Not only Wang Xing and Wang Huiwen's "Double Kings" combination, but also Ali, JD.COM, Baidu and Tik Tok are actively participating in the competition.
After Wang Huiwen took out $50 million in real money, Wang Xiaochuan, a former Sogou CEO, also posted on social media that he was about to enter the "China's OpenAI" battlefield.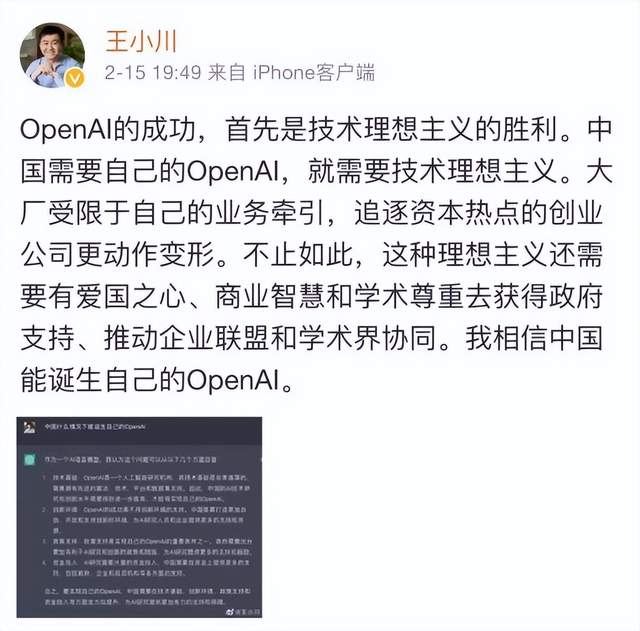 On February 26th,Zhou Bowen, the former head of JD.COM technology, announced the recruitment of partners to build a China version of ChatGPT.
In the last two days, Yan Li, the core figure of AI technology research and development in Aauto Quicker, has also started a big AI model business as a new company founded after leaving Aauto Quicker.
Mu Li, a great technical god, and Alex Smola, his former mentor, started their business together, and the track they chose was also a big model-related project.
Coupled with this high-profile announcement by Wang Xing,At present, the domestic AI model entrepreneurial track has been crowded with big names, including many serial entrepreneurs and technical gods.
As the "best co-production venture combination" recognized in the Internet industry, the re-joining of Wang Xing and Wang Huiwen has brought a beautiful imagination to the industry.
On December 18, 2020, Meituan issued an internal letter, and Wang Huiwen, the co-founder and senior vice president of Meituan, officially retired as planned.
On the occasion of Wang Huiwen's retirement, Wang Xing wrote a letter for him, briefly summarizing his ten-year entrepreneurial achievements.
"Joined the US Mission in 2010 to help the company stand out from the Thousand Regiments War; Three years later, we will build a US group take-out from 0 to 1, and then go deep into the upstream and downstream of the catering industry chain to build local service business scenarios such as store, home and travel; One year before leaving office, Lao Wang was still promoting the building of platform capabilities such as user platform, basic research and development, big data and Al. "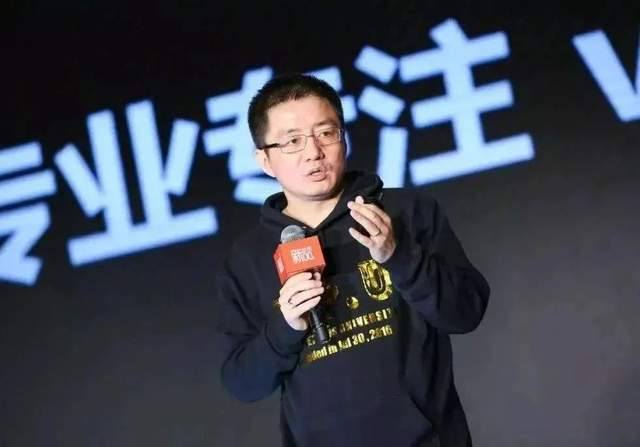 It can be seen that Wang Huiwen plays a cornerstone role in today's Meituan Empire. However, before the establishment of the US Mission, Wang Xing and Wang Huiwen had already cooperated many times.
In 1997, 18-year-old Wang Xing walked to Tsinghua University from Longyan No.1 Middle School in Fujian. At that time, the first classmate he knew was his roommate Wang Huiwen.
Since 2003, they decided to start a joint venture. It is said that Wang Xing interrupted his doctoral studies in the Department of Electronic and Computer Engineering of the University of Delaware, and Wang Huiwen also dropped out of the Institute of Acoustics of the Chinese Academy of Sciences.
In a year, Wang Xing tried 10 entrepreneurial projects until.In 2005, the real-name registration system social networking platform "Intranet", which was jointly founded by them, went online, and finally made a name in the industry.
This social platform, similar to Facebook, quickly took off in China. However, due to the broken capital chain and lack of entrepreneurial experience, Wang Xing's team sold the campus network to Thousand Oaks Group for $2 million in less than one year.
Three years later, in 2009, Thousand Oaks Group renamed its famous campus network Renren. By 2011, when Renren was listed in the United States, its market value reached 7.482 billion US dollars, surpassing Sohu, Youku, Netease, Ctrip and Sina, becoming the third company with internet market value in China.

In this story, although the "two kings" group left early, their keen judgment and industry judgment on the Internet still surprised everyone.
After the campus network project, Wang Xing and Wang Huiwen went to toss up the projects such as Fanbu, hainei and Taofang, but none of them improved much.
In 2010, the two men got together again and jointly founded Meituan., and then completed the expansion of thousands of regiments, takeaway wars, big retail and big travel.
In a short sentence, how many wars are raging? After several wars and standing out from the crowd, Wang Xing and Wang Huiwen combined to gain a firm foothold, and more people began to call them "industry bosses". As we all know, the super entrepreneurial strength displayed by the two of them together is an important factor that makes everyone look askance.
Thousand regiments war
It is worth noting that after Wang Huiwen retired, he never stopped to invest in the technology industry.
Specifically, in April last year, Wang Huiwen's signature on Instant was still "All in Crypto". After half a year, his interest shifted from Crypto and web3 to artificial intelligence, and he wanted to build the China version of OpenAI.
By the way, he also invested in LI and met Wang Xing in the investment field. In the last round of financing before the ideal IPO, Wang Huiwen's name appeared on the ideal investment list together with Wang Xing.
Not only does Wang Huiwen continue to explore in the science and technology circle, but Wang Xing has gradually become an investment tycoon in the field of hard technology.
According to incomplete statistics, in addition to his ideals, Wang Xing's personal investment projects also include mutual assistance, convenience, e-driving, Qingping Technology, Maibu Technology, flight steward, Tiger Securities and so on.
Wind data shows that there are 121 affiliated enterprises of Wang Xing and 39 foreign-invested enterprises, of which 34 are surviving. The enterprises they invest in are mainly engaged in scientific research and technical services, information transmission, software and information technology services, and leasing and business services.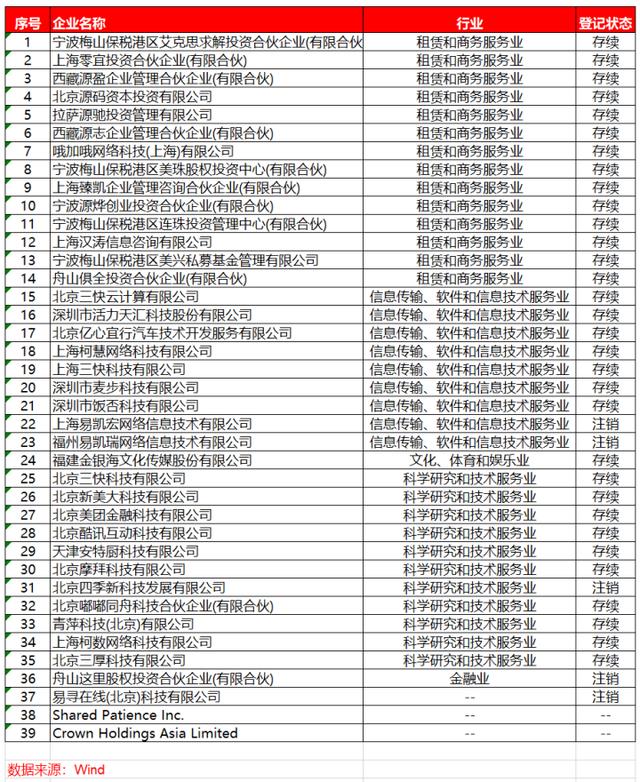 It can be seen that the exploration of the two people joining hands to enter the AI industry is not as simple as a "supporting friends". In fact, there are both sides' continued emphasis on the technology industry and their recognition of entrepreneurial ideas.
In the open letter of Wang Huiwen's retirement, Wang Xing wrote that "Lao Wang and I are classmates and roommates with common interests, partners who work together to start a business, comrades who fight side by side, and lifelong friends who can collide with each other and talk with each other".
Different from the rhetoric in Wang Huiwen's hero list, when the two really entered the AI industry, of course, all the spectators were most concerned about:What are you going to do and what kind of business model are you going to establish?
From the current mainstream point of view, the AI ? ? big model and ChatGPT entrepreneurship actually require high R&D investment. In fact, the only team in China that is most suitable for competition and has a greater possibility of success is BAT, an Internet giant with a cloud computing platform and a large number of users and related data.
Some insiders have calculated the relevant costs. "ChatGPT hardware needs 30,000 top-level GPUs, plus CPU, memory, hard disk, network and data center power supply and buildings, which is close to 10 billion yuan.Training takes several months at a time, and besides the huge cost of materials and electricity, there is also the cost of software development. "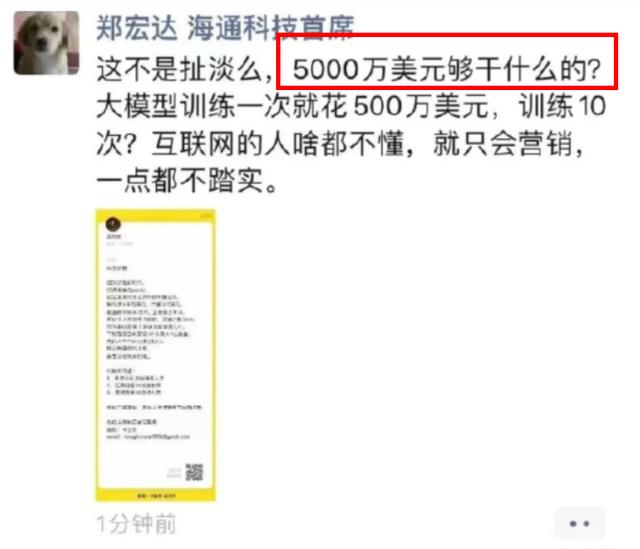 In the past few years, both Ali and Tencent have invested no less than $50-10 billion in OpenAI. However, from the landing effect, the results are not obvious.
The same is true for Wang Xing and Wang Huiwen.They face as many difficulties as Ali.
At present, the advantages of the two men in the process of starting a business are rich entrepreneurial experience, keen market insight, talking about ideals, talking about feelings and grabbing talents. Wang Xing and Wang Huiwen are very powerful.
Earlier news showed that recently, Liu Jiang, vice president of Beijing Zhiyuan Artificial Intelligence Research Institute, wrote in a circle of friends that he had decided to join Wang Huiwen's "light years away", and he also called other "AI heroes" to join the team.
It shows the appeal of the two of them, but in addition to the above competitive factors, the specific landing scenarios, related business models and profit models of the AI ? ? big model are still being explored.
Is it ToB, facing the business side, using ChatGPT and big model as an interface to improve the efficiency of production and service, or ToC, putting the AI big model technology to the ground and making a more reliable and intelligent chat robot?
Just like several keywords mentioned by Wang Huiwen in the continuation of the hero list, "unclear, vague and unclear" indirectly summarizes the mentality of both surprise and anxiety about related technologies in the industry.
Wang Xing and Wang Huiwen took a group photo.
What we can make clear is that in the process of AI entrepreneurship, in addition to technical belief, it is necessary to have sufficient capital and the support of related industries, and it is actually very difficult to simply explore technology without landing scenes.
Wang Xing and Wang Huiwen stood up and supported the industrial development with actual funds. They played more of the role of "investors". This move deserves more people's follow. After all, no matter how difficult the technical research is, someone must promote it.
Betting on AI entrepreneurship is a new journey for these two Internet giants, and the whole Internet industry is waiting for the day when the truth comes out.
Author | Lao Dian